Cozy Mediterranean Detoxifying Soup Recipe Packed With Superfoods
During the fall, everyone is looking for cozy recipes but you don't want to skip out on your greens and veggies. Greens doesn't have to mean salad though. Look no further than our cozy Mediterranean detoxifying soup recipe packed with superfoods and antioxidants. This veggie soup is chock full of nutrients from whole-food ingredients with a boost of our
Detox & Digest greens
to help with gentle detoxification and aid digestion.
*Optional additions to recipe will adjust calorie content and nutritional values.
4 large swiss chard leaves

 

1 Tbsp olive oil
1/2 yellow onion, diced

 

1 stalk celery, diced
1 carrot, diced
2 cloves garlic, minced
4 cups vegetable broth
1 cup water, plus more if needed
1 can diced tomatoes with juice
1/2 cup quinoa
1 tsp dried oregano
1 tsp smoked paprika
1 cup canned garbanzo beans, (drained)
8 pitted Kalamata olives (thinly sliced)
2 Tbsps fresh lemon juice
2 Tbsps minced fresh parsley,

 

 Sea salt & ground black pepper
Cut the Swiss chard stems away from the leaves and dice the stems.
Chop the leaves and set aside separately from the stems, for later.
In a large pot, warm the oil over medium heat. Once hot, add the Swiss chard stems, onions, celery and carrot. Sauté for 5 minutes, stirring occasionally.
Add the garlic and cook for 2 minutes longer, stirring often.
Add the vegetable broth, 1 cup water, tomatoes, quinoa, oregano, paprika and ¼ tsp of ground black pepper (if your broth and tomatoes are unsalted, add a little salt here too…otherwise, wait until the end of cooking for additional seasoning).
Turn the heat up to high and bring the mixture to a boil. Reduce the heat to medium low and simmer for 15 minutes.

 

Stir in the garbanzo beans, olives and chopped chard leaves. Cook 5 minutes longer, adding a little bit of extra water if the mixture seems too thick.
Remove from the heat, and stir in the Amazing Grass as well as the lemon juice. Taste for seasoning, adding additional salt and pepper as desired.
Serve warm with fresh parsley sprinkled on top.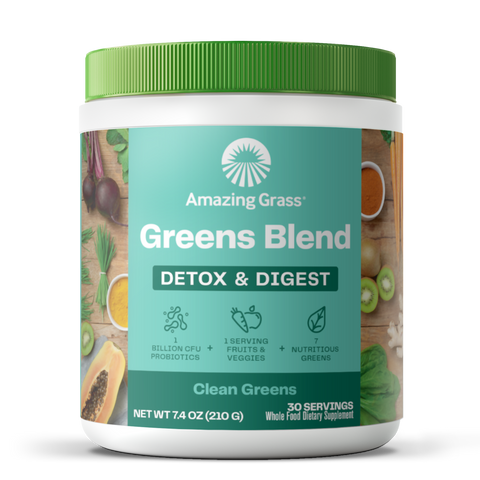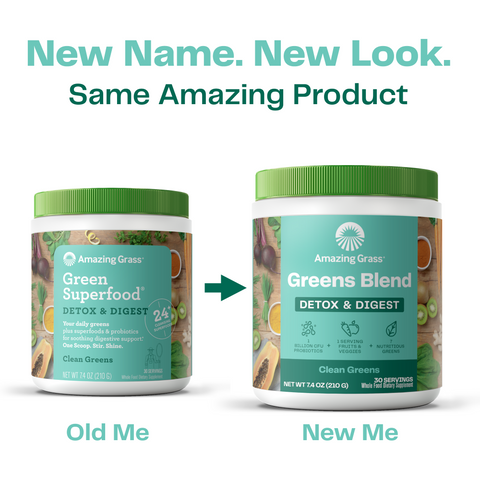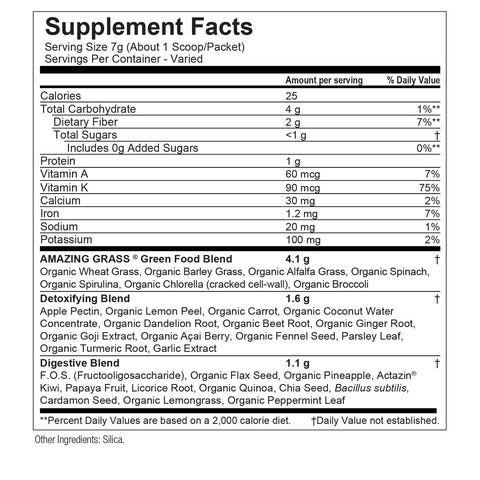 Greens Blend Detox & Digest Clean Greens
Go to top